3 Reasons Rattan and Wicker Furniture is the Best Choice for 2023
There are more than 3 reasons all-natural Rattan and Wicker is the best furniture option but for this article I will only cover 3 of them.
The FIRST REASON I love all-natural Rattan and Wicker furniture more than any other is that it is renewable and eco-friendly. This makes it a fantastic option for protecting our environment because it doesnt end up in a landfill. Rattan and Wicker can be re-stained to give the furniture a whole new look. For example, lets say your Sunroom has been re-painted from white walls to a coastal blue color. You want to re-decorate the room by adding white furniture. You have a Rattan furniture set already that is stained in a brownish stain. Just so you know there is no reason to sell this furniture, give it away, or take it to a landfill. Instead, you will re-stain the furniture you already have to the white stain furniture you want!
Before you begin your going to need a few items. These items are generally inexpensive and can be picked up at any hardware, paint, or general store. You'll need sand paper, steel wool, a can of paint primer (in this case white primer is best), and a can of good quality white paint. Depending on the finish you want you can get a satin white that is less shiny or a gloss or semi-gloss white that gives more shine. So the white color and the gloss of the finish are all up to your personal preferences.
Lets Get the Process Started!
If you have glass tops on your coffee and end tables you will remove those. If you have cushions you will also remove those. Now its time to decide on an area of your home for sanding and staining. Garages can work but if you dont have a garage a patio with overhang could work. Or even just using the room the furniture is in and lay down plastic under the furniture so the dust and paint dont affect your floor. So lets get to work – take your sand paper or sanding block and just start cleaning off the old finish on the furniture. Note it doesnt have to be perfect! The goal here is to get as much of the old stain off as you can. If you've got alot of pieces this can take some time. It will also depend on whether the furniture is a wicker weave or pole construction. Wicker weave can take a little more time because the strands are more difficult to sand whereas Rattan pole furniture will be quite easy to sand. Once you've got the sanding done to the point your satisfied you use your steel wool to give the Wicker and Rattan a smooth finish. To finish this prep phase wipe the furniture down with a damp cloth to remove any dust and residue.
Time to Paint – Open your can of white primer and stir it up nicely. I forgot to mention that when you buy your primer and paint have the store personnel put in their shaker for you to get it mixed up really well. Then take out your paint brush and begin applying your white primer. Some people may want to use a paint sprayer for applying the primer and paint. Thats also perfectly fine but not necessary, if you dont have a sprayer and don't want to buy one. After your primer is applied to all the furniture thoroughly clean your brush and let the furniture dry. Once dry, its time to begin painting. Open your white can of paint, stir it up, and begin painting.
Cushions – So your painting is all done and the furniture placed where you want it and your impressed by how stunning it looks. But, you realize the cushions you had before just don't work as well with your newly painted furniture and room. No problem! There are a number of approaches you can go for cushions depending on your budget and where you originally purchased your furniture. If you purchased your furniture from American Rattan they can provide you a quote for new cushion covers or completely new cushion sets. They also provide a fantastic selection of fabric options for you to choose from! Or if the budget just doesnt work for new covers, you could always remove the covers you have and wash them in cold water and hang to dry or get them dry cleaned.
Here is a beautiful living room set of Old Nassau white furniture (this set was originally Made in the USA by Classic Rattan)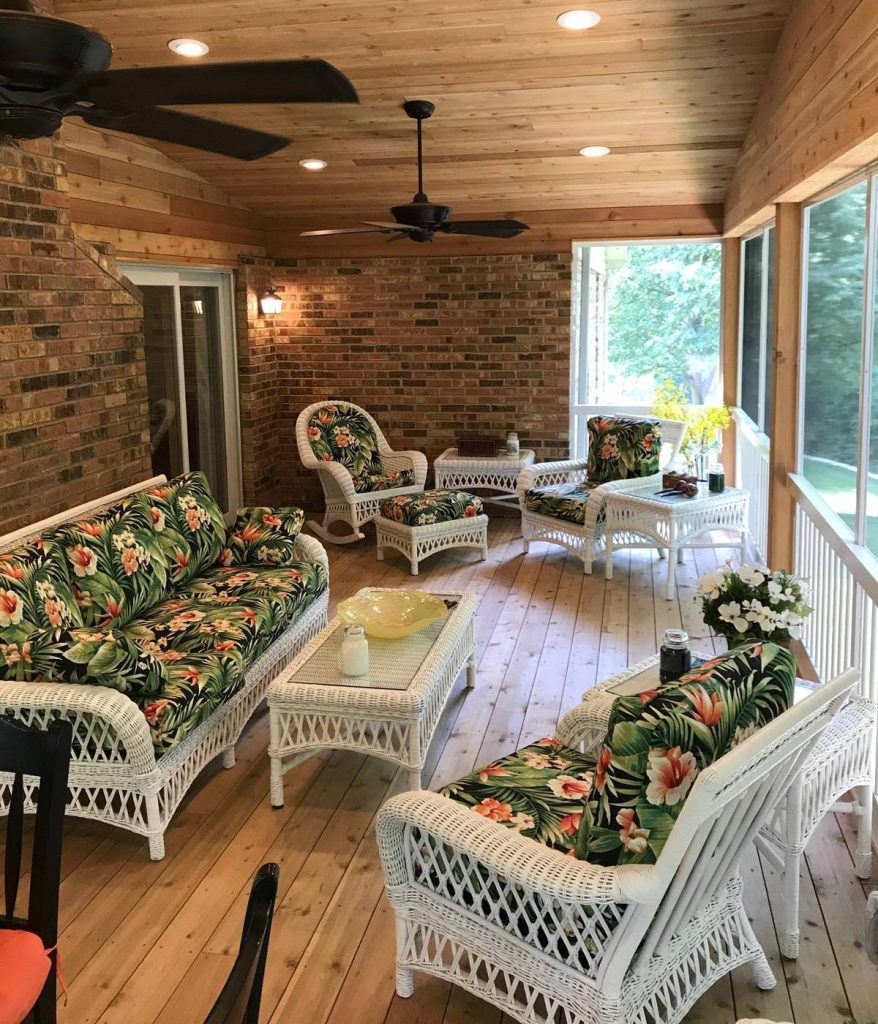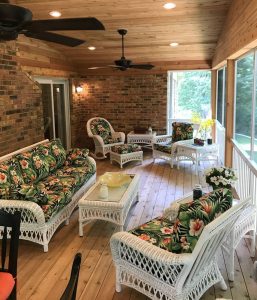 The SECOND REASON Rattan and Wicker furniture is the best option for decorating in 2023 is because its still MADE IN THE USA! Rattan furniture has always been an American tradition dating back to the 1840's when the American Rattan company developed the process and maching for stripping wicker strands from rattan poles. Today that tradition continues with American Rattan offering furniture from 2 U.S.A manufacturers Classic Rattan of Nicholasville, Ky and Braxton Culler of High Point, NC.. Classic Rattan still uses man and machinery to bend Rattan poles into furniture! And both Classic Rattan and Braxton Culler customize both finish colors and fabric options for cushions. And all the USA suppliers of Rattan and Wicker furniture produce all the cushions here in the USA! So Rattan furniture as an industry does so much to help hire Americans and keep those jobs here in the USA.
Classic Rattan began operations in 1978 with the goal of building top quality, custom-built Rattan furniture. Much of their furniture is built by hand and all of the upholstery work is done in their Nicholasville, KY facility in the heart of Bluegrass country. Classic Rattan builds the finest indoor and outdoor Rattan and Wicker furniture in the U.S.A and the world. Don't Miss this Video!
The THIRD REASON Rattan and Wicker furniture is the best option for 2023 is its ability to be customized! When shopping for this furniture you will find so many stains and fabric options to fit any room of your home. Decorate your dining room, living room, sunroom, family room, and bedrooms in any style and stain you need or can dream of. For example, lets say you'd like to have a blue stained furniture set for your bedroom because you've decorated in a coastal theme and blue would be the perfect color for the look you want. Or maybe you want a dining room set that is stained in a dark coffee or black stain because those stains would give the ambience that perfectly sets off the rest of the room. No matter what your desires or dreams Rattan furniture can be perfectly customized to your tastes. And like I mention above in Reason One for this furniture type is that you can always change the stain and cushions later if you want or need for a whole new look!
The American Rattan Monaco Bedroom Collection in Bleu Coastal Stain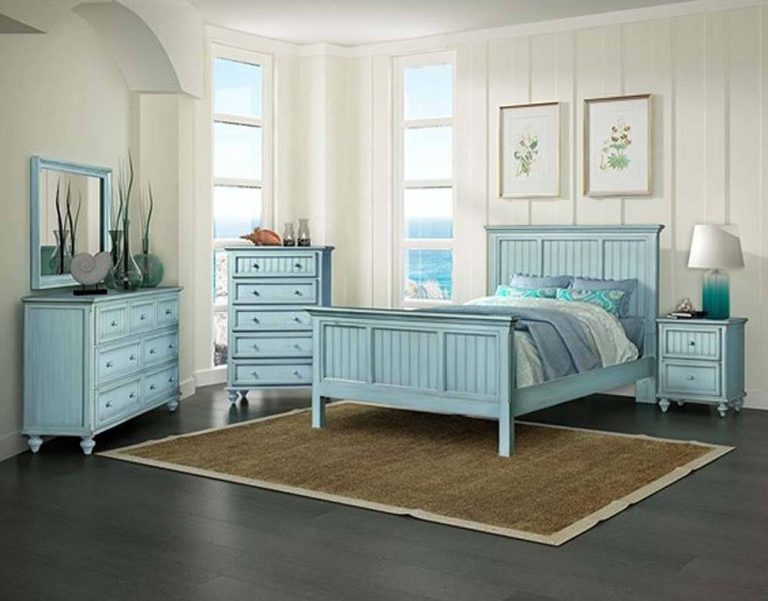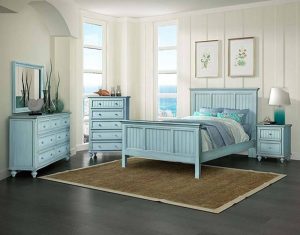 All natural Rattan and Wicker furniture is truly the one kind of furniture you can BUY AND KEEP FOR YOUR LIFETIME adapting to every new home and new environment.
Thank you so much for stopping by and I hope your best dreams come true in 2023!
Mark Mosher, aka RattanMan(TM)