Add a Spirit of Traditional Americana with Ornate Rattan and Wicker Furniture
Many people might think that Rattan and Wicker furniture production began in Asia. Maybe in countries like the Philippines or China. But its surprising to note that Rattan and Wicker furniture as an industry began here in the United States in the 1840's, and American Rattan was the first company to use machinery to strip wicker strands off Rattan poles. A grocer by the name of Cyrus Wakefield started the first Rattan furniture company in South Reading, MA called the Wakefield Rattan Company. Wakefield was very successful throughout the 2nd half of the 1800's along with another Rattan furniture company called Heywood Brothers, another Massachusetts manufacturer. In 1897 the 2 companies merged to form the Heywood-Wakefield Furniture company.
These 2 companies and their combined enterprise introduced many ornate and classic furniture designs during this timeframe. Their furniture lines became widely known and popular as traditional American Rattan furniture. Today in American there are still companies building amazing traditional American style Rattan and Wicker furniture. For example, Classic Rattan in Nicholasville, Ky still molds raw cane into Rattan and they do all of their staining and upholstery at their factory. Here is a video that shows Classic Rattan factory personnel building American Rattan and Wicker furniture.
Watch today's American Rattan factory workers build furniture.
Introduction to orante and traditional American Rattan and Wicker
If you've ver been to the Edison and Ford estates and museum in Ft Myers, Florida you will have the chance to see the original Rattan and Wicker furniture they used in the early 1900's. Every winter Henry Ford and his friend Thomas Edison would head south to their southwest Florida homes in Ft Myers. The would sit comfortably in their Rattan and Wicker chairs and enjoy the beautiful balmy weather of Florida in the winter. If you visit the Edison estates today you will see these original pieces of American furniture art.
The Ornate Gazebo White Chaise Lounge is a Stunning Example of Early American Rattan and Wicker
You can still find and buy this furniture and its very fitting that its available at the American Rattan website.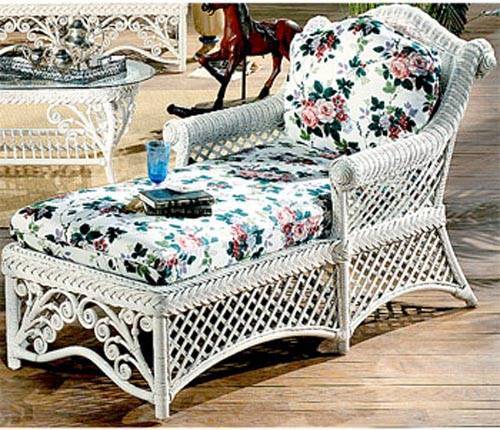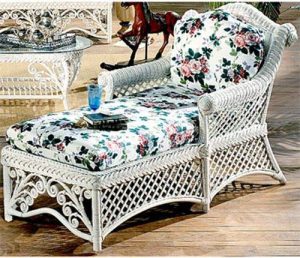 The American Rattan Bar Harbor furniture as originally built for the eastern and southeastern American cities and communities.
Its not hard to imagine Thomas Edison and Henry Ford sitting on their balcony rockers discussing topics of the day like modernizing homes with electricity and automating automobile production to bring the car to everyday Americans.
The Bar Harbor Rocker comes in the darker stain as shown and the white stain.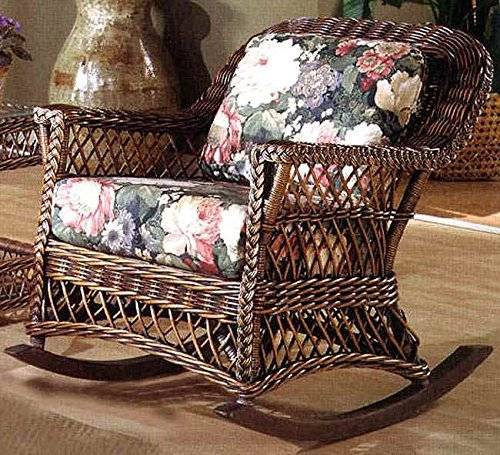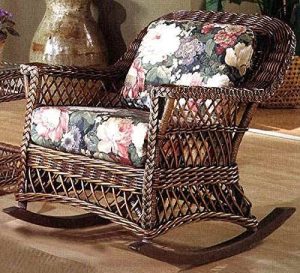 Both White and Chocolate stains were popular in the vintage age of American Rattan and Wicker furniture. And overall the designs were much more ornate at that time. Alot of meticulous bending and molding of the Rattan and Wicker was necessary to build this amazing furniture. And to think it all began here in America!
The Gazebo Chair set here shows the style of the early American look of ornate Rattan and Wicker furniture. You can still find this style of furniture and add some to your own home or cottage. It looks great and becomes a conversation piece in any style home or room.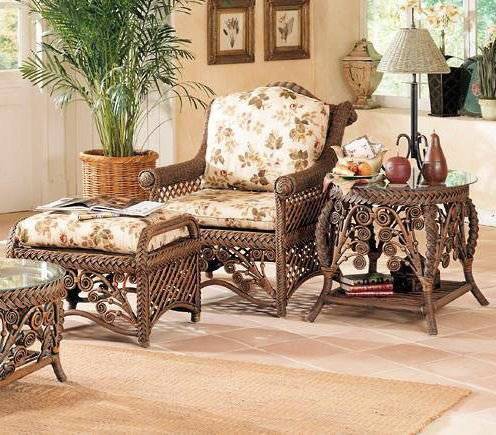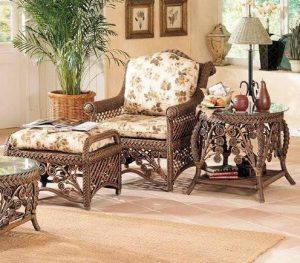 I hope you enjoyed reading this article and it gave you new ideas for decorating your home.
by Mark Mosher, aka, "RATTANMAN(TM)"
12% OFF AND FREE SHIPPING TO ALL 48 CONUS STATES – USE COUPON CODE: RATTAN12