Ideas for Turning your Bedroom into a Coastal or Tropical Retreat
Selecting bedroom furniture that makes you comfortable and restful is a very important aspect of good decorating. And selecting the ambience you want to create is just as important. A very popular concept is to create the tropical or coastal style and feel of a bedroom. This can be a creative art to accomplish but when you find the right furniture it becomes very easy to accomplsih.  So you know you don't need to be a professional but being creative is an important part of the process. With a little thought and willingness to experiment you can create your own tropical or coastal bedroom retreat.
I will present some very popular furniture here that has helped many people achieve the look and feel for their coastal and tropical style bedrooms. So lets get started –
POLYNESIAN TROPICAL STYLE BEDROOM COLLECTION
The Polynesian is very tropical, and very high quality Rattan and Wicker bedroom furniture. Turn your bedroom into an Island oasis with this stunning furniture.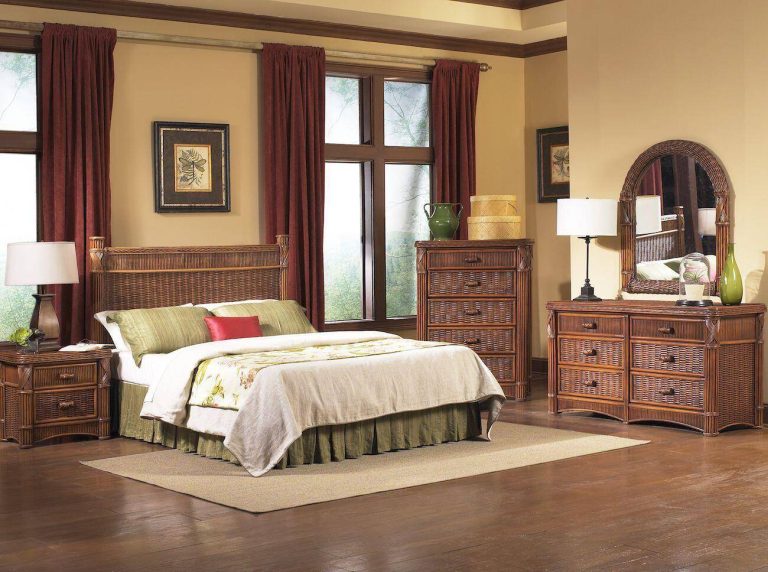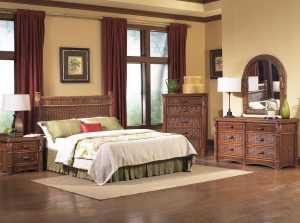 Find your Inner creative inspiration by browsing home decoration magazines, internet sources like interior designing websites, and furniture blogs like this one. All of these sources can be great places to find creative inspiration for your decorating purposes. Here you will find those unique ideas for for your bedroom designing and exploring various concepts and ideas will also enhance your imagination. Educate yourself on the latest trends in design and other various techniques while selecting your bedroom furniture. Having a good idea of what you want and need to do in the bedroom, will help you select the furniture to achieve those ideas.
SEA BREEZE COASTAL STYLE BEDROOM COLLECTION
The Sea Breeze Woven bedroom collection conveys the feeling of a tranquil retreat with a tropical look. It features a slightly distressed white finish on the frame and Taupe on the weave, creating an eye catching casual look.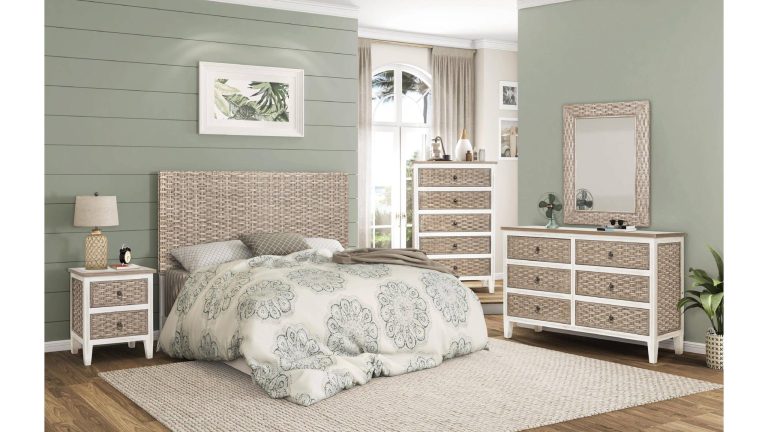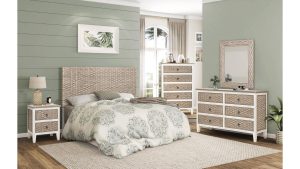 Breaking your built in and pre-conceived stereotypes for bedroom furniture ideas will help you to add various other accessories to your bedroom. These may include benches, chairs, desk, and plants and other decor. The goal here is to merge all of these ideas so you can achieve your bedroom concept. These items will make your ordinary bedroom into a multi functioning room that achieves your style and design and also the functionality of your selected bedroom furniture.
PALM COVE TROPICAL STYLE BEDROOM COLLECTION
A beautiful and timeless addition to any bedroom or master suite, the Palm Cove 6 PC queen bedroom set will evoke a tropical paradise feel throughout your entire home. This collection boasts a blend of rattan woven weave and multiple pencil rattan poles tied together with leather bindings. This exotic combination is then finished in a two tone rich antique color making this collection an ultimate statement in any bedroom décor. The drawers slide on smooth metal glides with full extension.
Efficient use of your bedroom space begins with good furniture placement. Things to consider include your rooms wall lengths, and height. These may act as constraints to your ideas but always play with your furniture to obtain the perfect arrangement for your room. Another idea is to start your arrangement with the minimal pieces of furniture you need to have. Too many items in a room can easily become a mess, and you might not need all of them in the end. This is a very important concept for small apartments where the space is limited. Less but well arranged furniture can make your room look more spacious.
ISLAMORADA COASTAL STYLE BEDROOM COLLECTION
Our most popular coastal style bedroom collection! The Islamorada Collection has the perfect two-tone combination. The gray is a multi-step finish process that lightly distresses the wood creating a beautiful depth of color and texture, complemented by a gently-glazed white to give your room a character like no other!
The best place to begin in your bedroom designing is to select and arrange a bed in your bedroom. This is a very important first step as your bed is the center of the universe of your bedroom. Arrange all your chosen other accessories around it. American Rattan bedroom furniture is the best place to start in designing your unique and coastal stye dream bedroom.
12% OFF ALL COASTAL AND BEDROOM FURNITURE SETS AND ITEMS – Use coupon code: RATTANMAN12
I hope you enjoyed reading this article and it gave you new ideas for furnishing your home.
by Mark Mosher, aka, "RATTANMAN(TM)"