Refinish All-Natural Rattan for Personalized Custom Decor
The really great aspect of all natural Rattan furniture is that you can paint it or stain it according to your personal requirements and tastes.
Basic Steps in the Refinishing Process
Step One – Look for the right type of Rattan for refinishing. Its important to know a little bit about the refinishing process before you begin searching for Rattan. Some sanding will be needed and its very difficult to sand very small wicker weave. The more ideal stye furniture to work on is the Rattan pole furniture. We have added some samples below and these are even available for purchase at a deep discount at American Rattan!
Step Two – How to find your Rattan furniture. You can begin the process of finding Rattan to refinish by shopping in your local Facebook marketplace and Craigslist venues online. Sometimes you won't find much locally so browse some online Rattan furniture retailers like American Rattan. We offer deeply discounted showroom furniture. In many cases, this is furniture that was ordered and then cancelled or might have some small defects but it's still beautiful and makes great project furniture.
Step Three – The basics of the refinishing process. There isn't an exact science to the process of refinishing but here are some of the basics:
1. Using sandpaper and steel wool rub off the top layer of the old varnish and stain. The idea here is to remove enough of the old finish so the new paint you apply will adhere permanently to the Rattan.
2. Applying the primer. Protect any cushions or upholstery if applicable by removing them. You can apply the primer using a spray method or just brush paint the primer. The purpose of the primer is to help your new paint or stain adhere to the Rattan. After applying primer it can be beneficial to lightly sand it to a smooth feeling texture. Again, it may not be necessary and this isn't an exact science so you can use your own judgement on sanding the primer.
3. Paint or Stain your Rattan furniture. Rattan is a natural vine in nature and very much the same as any other solid wood furniture. Its best to use a high quality interior or exterior wood paint. If you plan to place the furniture on an open deck or patio be sure to use exterior wood paint. Just like the primer you can spray or brush on the new paint or stain. Use additional coats of paint as needed.
4. The final process. After you have completed painting you can apply a clear coat varnish as final protection against scuffing and the elements. This is an especially good idea if the furniture will be placed on a covered deck or porch area. Note that its not a good idea to place all natural Rattan in a completely open patio or lanai situation. Its a natural material and over time it will tend to mold up in high humidity and lose its finish and shine in the rain and snow.
Here are some ideas currently available for purchase that would make great refinishing project furniture. Creating your own coastal and tropical style furniture for your personal decorating or even client furniture is both fun and rewarding! Your guests whether in your home or vacation rental will appreciate your hard work and ingenuity.
Pacifica Rattan 6 Pc Dining Set on Showroom Special!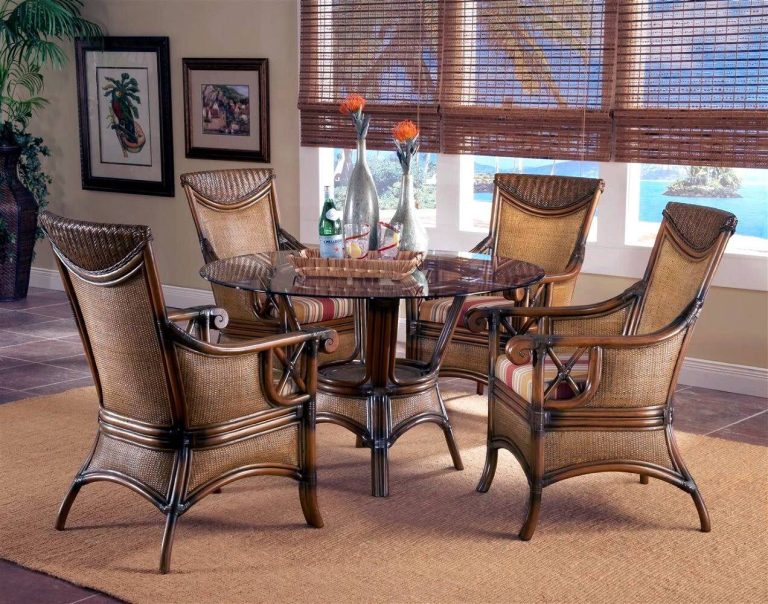 Creating your own furniture styles and colors can be hard work but its also very rewarding! Have fun with both your ideas and the process to create warm and inviting rooms. Design your furniture with rich, inviting colors, and capture the feel, and laid-black lifestyle synonymous with tropical and coastal furniture. Transform any space into your own personal oasis.
Note the that the larger Rattan pole of the chair is large, easy to access, and easier to sand. This is a great example of the kinds of furniture to be on the lookout for a refinishing project.
You can also customize your refinished furniture and  chairs with a fabric that fits your personal tastes and decor. The re-upholstery with new fabric as wanted or needed is always a great way to achieve that brand new look. Again, have fun with your projects and once you get started you'll always be moving on to your next fun and rewarding refinishing project!
I hope you enjoyed reading this article and it gave you new ideas for furnishing your bedroom.
by Mark Mosher, aka, "RATTANMAN(TM)"