SAVE BIG $ on South Sea Rattan Close-Out Outdoor Furniture Collections!
HUGE SALE on IN-STOCK close-out of popular outdoor furniture collections from South Sea Rattan. These are very popular and great looking all weather furniture lines. With such good stock of the furniture shown we can get these into production and shipped quicker than alot of the back ordered products.
Use Coupon Code: RATTANMAN15
How construction of South Sea Rattan Outdoor Furniture is the Best in the Industry - All outdoor collections feature high density polyethylene synthetic wicker, handwoven 
over fully-welded powder-coated aluminum framing. Each seat has independent suspension. Mold and mildew resistant cushion cores are made with layered, high density polyfiber and 
dry conjugate blend.
BAHIA ALL WEATHER WICKER DINING SET
The clean flowing lines on the chairs of this set really appeal to me but surprisingly to me it hasnt sold as fast as I thought it would at the great price we're offering on it. Take a close look at the Bahia and see if you agree with me that its a great looking contemporary outdoor dining set.  PRICE ALERT! ONLY $1359 AFTER DISCOUNT WITH FREE SHIPPING!!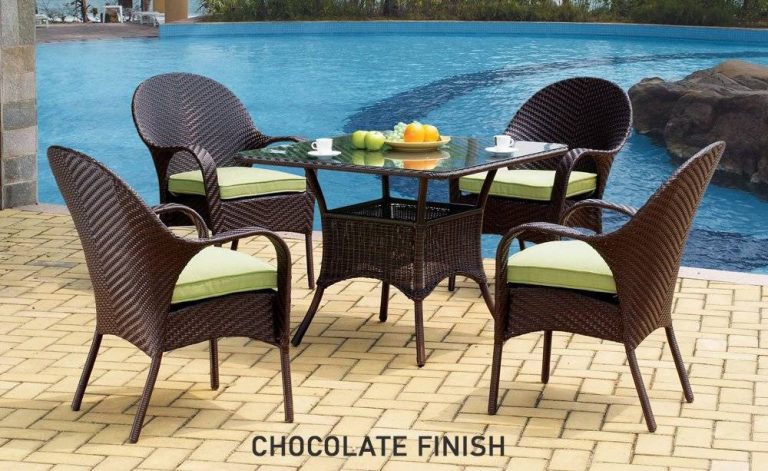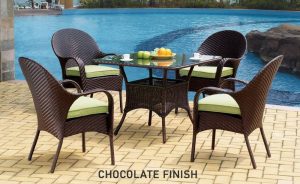 Del Ray Chaise Lounge and End Table Set
The Del Ray is outdoor entertaining and lounging at its finest. Rounded all-weather wicker in a warm chestnut finish is woven over rustproof aluminum framing, made to withstand the elements and hold its beauty year after year.
Huntington Loveseat and End Table Set South Sea Rattan Model 1-77202-set
A long time customer favorite with its very unique and stunning 2 tone wicker weave.

Martinique All Weather Rocker and End Table 2 Pc Set – This is an especially great bargain for such a beautiful rocker and end table. SALE PRICE AFTER DISCOUNT IS JUST $584.80!
Montego Bay Loveseat Glider and End Table 2 Pc Set
An old outdoor favorite by South Sea Rattan is the Montego Bay All Weather Wicker collection. Its being phased out of production but they have great inventory of the loveseat glider and matching end tables. So we put a set together and providing customers a great discount at 15% Off!
JAVA OUTDOOR WICKER SUSHI TABLE SET WITH 4 OTTOMANS
Now for a very unique and popular seating set comes the Java Sushi table set. If your ever lucky enough to come across something as beautiful and unique as this you dont want to pass it up. Built of strong outdoor wicker and tempered glass top this gem will last a lifetime!
Barrington Glider and End Table Set
The Beautiful ALL-WEATHER Barrington has always been a pricey collection. I think with the 15% Off discount and the added end table to make a set its now a better value to someone who loves the unique looks of this high quality furniture.
In closing today I wanted to say Kudos to South Sea Rattan for keeping us updated on these furniture closeouts. Most other manufacturers we deal with dont do a very good job of keeping us updated on current inventory so its a great help to me to get this assistance on current stock levels. These collections are all high quality, all weather, Wicker  with aluminum frames. What that means to you is that you will have outdoor furniture that will last you a lifetime.
Please give our experts a call as needed: 1-888-265-4695
I hope you enjoyed reading this article and it gave you new ideas for decorating your home.
by Mark Mosher, aka, "RATTANMAN(TM)"