The 5 Key Steps in Creating the Bedroom You'll Really Love
Whether your moving into a new house or re-decorating your current home the furniture you select will make all the difference in the end result. Furniture is the focal point for any home because it sets the tone for the style you have chosen for your home. This is definitely true for the bedrooms. And here at American Rattan we provide the best selections of rustic and appealing  wicker bedroom furniture for your home.
Our Polynesian Bedroom line of furniture is our most popular. Its rustic blend and tropical motif makes it a go-to collection for turning any bedroom into a really unique get-away. If you like the tropical style that many people look for in bedroom furniture then the Polynesian collection is definitely one to add to your list of possible sets for your bedroom.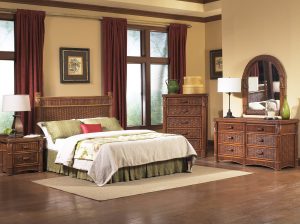 Arranging your bedroom furniture can be a creative art: it's one of the most important aspects about interior design. You do not need to be a professional for this but being creative is important. That's not to say that you have to be a pro to do it well. Giving it your due attention and willingness to experiment is the key to obtain a perfect combination.
1. Creative inspiration: If you are not able to decide your exact choice or starting criteria, you can easily look for other various bedroom ideas. Use home decoration magazines, internet sources like interior designing websites, blogs etc for this purpose. You will easily get the basic idea for your bedroom designing. Various concepts and ideas will also enhance your imagination. Make yourself aware about various trending designs and other various techniques while selecting your bedroom furniture. Select the best choice for your home. Think about what you're going to do with your furniture. Having a good idea of what you want and need to do in the bedroom, you can design around that.
2. Break stereotype: Add various other accessories to your bedroom besides the bed. These may include chairs, desk, and bedside table. Try to merge all your bedroom ideas to get the perfect match for your room. These items will make your ordinary bedroom into a multi functioning room. This furniture will induct into your daily routines. Try not to focus on style and design of the furniture but also on the functionality of the selected furniture.
3. Efficient use of the room with good furniture placement: Your room has some limits, wall lengths, height. These may act as constraints to your ideas but always play with your furniture to obtain the perfect arrangement for your room. Start the arrangement with just what you need to have. Many items in the room can easily become a mess, and you might not need all of them in the end. This is very important in small apartments where the space is limited. Less but well arranged furniture can make your room look more spacious.
4. Room Storage: Be creative while considering storage in your bedroom. Use under-bed and custom shelving to store things. Storage beds are also great way to get extra space without giving up on style.
5. Blueprint your room: Try to sketch your ideas. Use various online room planners to arrange your space without breaking a sweat. Smaller the layout better is the opportunities. Deciding on the theme of your bedroom will go a long way in helping you decide on bedroom furniture. If you like a beachy, coastal look, then you might opt for the white or grey stained bedroom furniture. If its a more tropical feel that your looking for then rustic colors like browns would be ideal.
Start your bedroom design by selecting and arranging a bed in your bedroom. This is a critical first step since your bed is the center of the universe of your bedroom. Arrange all other accessories around it. Rattan man furniture is the best for designing your unique dream bedroom.
The Islamorada coastal furniture from American Rattan is a great example of furniture placement.
The Islamorada Collection has the perfect two-tone combination. The gray is a multi-step finish process that lightly distresses the wood creating a beautiful depth of color and texture, complemented by a gently-glazed white to give your room a character like no other!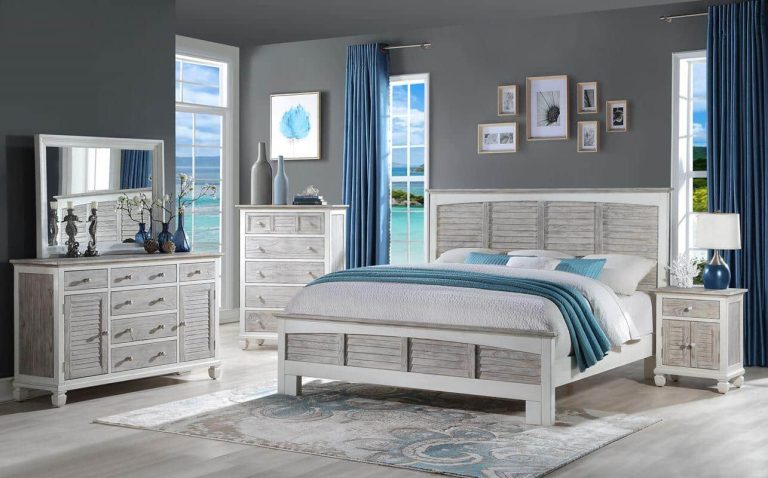 Price and budgets are usually a key factor when purchasing bedroom furniture. A person can sometimes find used bedroom furniture they like and maybe restore by cleaning and painting. But if your like most people starting out with new and unused furniture is ideal and especially for your bedroom. Finding the look you want can be daunting, but I have found that American Rattan's bedroom superstore is an excellent source. They have so many sets and options to choose from and its all such high quality wood and wicker furniture! There isn't any of the plastic laminated Chinese made garbage you see at other websites. Finally, have fun with your decorating, and enjoy creating something unique that you will enjoy everyday of life in your new home!
I hope you enjoyed reading this article and it gave you new ideas for decorating your home.
by Mark Mosher, aka, "RATTANMAN(TM)"
12% OFF AND FREE SHIPPING TO ALL 48 CONUS STATES – USE COUPON CODE: RATTAN12