How Renewable Rattan Furniture is the Eco-Friendly Choice for a Cleaner Environment
As I write this blog post new furniture rental companies are springing up that claim to be eco-friendly because they rent used furniture. This method of furnishing a home can be more environmental because it can reduce furniture that ends up in our landfills. But, eventually that is where that furniture will end up going. But how about buying a type of furniture that will always be repairable, sandable, and stainable and never needs to end up in a landfill?
1 – RATTAN FURNITURE – THE ULTIMATE IN ENVIRONMENTALLY FRIENDLY FURNITURE
Rattan furniture is made from a vine that grows in southeast Asia. This vine comes in various sizes and is cut into sections called cane. The cane is soaked and heated and then is molded into various shapes to build furniture. The countries that grow these vines maintain its sustainablilty by limiting the amounts that can be harvested and also managing the re-growth of the plantations where it is harvested. This ensures over harvesting is not allowed and it remains sustainable resource for the long term.
RENEWABLE PRODUCT – Rattan furniture is made of all natural cane. The finish can be sanded down and the furniture repainted or stained. This means if you get tired of the current stain or you want to re-decorate your room or home to a different color just change the stain of the furniture! The cushions are removeable in full frame Rattan furniture so you can also change the cushions any time you like! Your Rattan furniture is basically furniture for life and there is no furniture type anywhere that reaches that level of environmental sustainability because it will never need to end up in a landfill!
CLASSIC RATTAN – The Classic Rattan furniture company in Nicholasville, KY still builds all natural Rattan and Wicker furniture here in the USA! Their Walnut Grove caster dining set below is a great example of this wonderful furniture. Note how the cushions can be removed and recovered. The furniture can be sanded down and restained, and even the casters can be replaced if ever broken! For more information of the Rattan industry that was started in the United States here is a great resource for more information.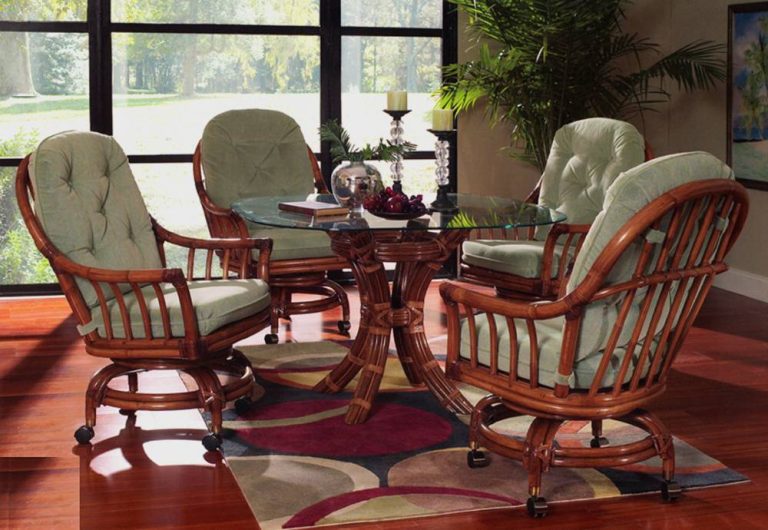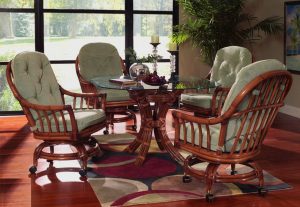 2 – CHANGING YOUR DECOR
Most furniture ends up in a landfill because nobody wants to buy a beat up looking sofa set. I wont get into all the details of why this furniture might not be sanitary but I'll spare us all those details. With full frame Rattan seating furniture there isnt any reason the furniture needs to stay in any beat up condition because it can always be changed! Just remove the cushions, sand and stain the frames and re-paint or re-stain the furniture into a new color you prefer. The same is true for the cushions. Remove them, clean them, and re-cover them in a new fabric that you choose! And if you bought the furniture from American Rattan they can get the cushion covers replaced for you directly from the factory and probably at a much better price than your local upholstery shop.
The Edgewater Living Room collection from Braxton Culler is a great example of Rattan furniture that can be sanded down and re-stained. The cushions covers can also be removed and replaced by new cushions covers. Your entire room can be instantly transformed! No need to fill up a landfill with beautiful renewable Rattan furniture.
HERE IS THE EDGEWATER SEATING COLLECTION AGAIN IN A DIFFERENT STAIN AND CUSHION CHOICE FOR A COMPLETELY DIFFERENT LOOK
And when your tired of this look you can easily transform the furniture into a different look saving the time and trouble of moving the furniture to your local landfill! With Rattan furniture helping our environment with less waste is a win-win all the way around for our planet.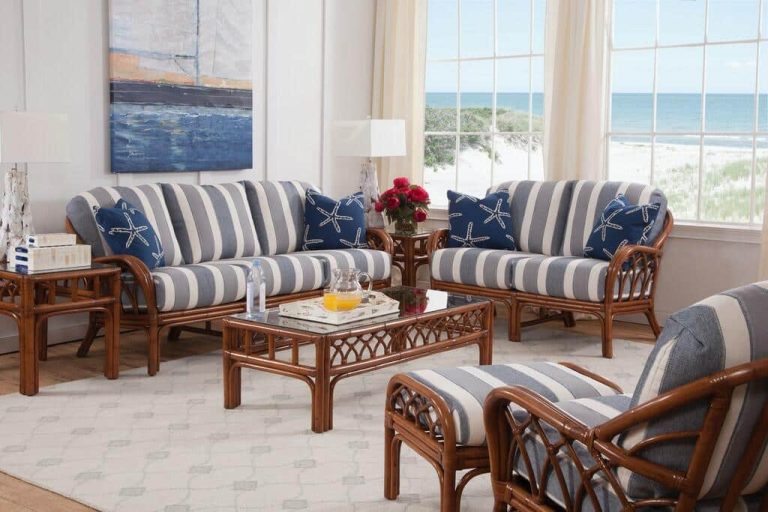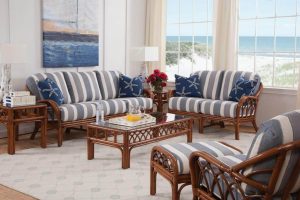 3 – TOOLS NEEDED FOR REFINISHING RATTAN FURNITURE
RE-FINISHING RATTAN – When refinishing Rattan furniture all you need is sand paper, steel wool, and in some case when painting a primer. If your going to just re-stain then you will sand off as much of the old finish as you can. Then wipe all the dust and debris off the furniture. Pick out your preferred stain at your local paint or hardware store. Set the furniture on old newspapers or cardboard to catch any stain that falls and with a brush start your re-staining project! When painting the Rattan the sanding process is the same but probably to a lesser degree because you can apply primer prior to painting which will help cover any of the old stain left on the wood. Sand it down, apply your primer, let the prime dry and then you can begin painting. Some people get very creative and coastal by painting with whites, greys, blues, and various shades of coastal greens like Cyan.
RE-COVERING THE CUSHIONS – Simply remove the covers from the cushions. If you know the manufacturer of the furniture call American Rattan at 1-888-265-4695  for a free, quick quote for new covers. If your not sure of the manufacturer you might be able to search the web for your Rattan collection and find it that way. American Rattan personnel can also assist you in finding the manufacturer for your furniture. Again, in most cases ordering new cushion covers from American Rattan will be cheaper than having new ones made at your local upholstery shop. But either way you decide to proceed, your creating a whole new look for your rooms and home!
12% OFF FURNITURE – Use coupon code: RATTAN12
Please give our experts a call as needed: 1-888-265-4695
I hope you enjoyed reading this article and it gave you new ideas for decorating your home.
by Mark Mosher, aka, "RATTANMAN(TM)"