Wicker Furniture – An American Legacy
by Mark Mosher – "Rattan Man" and Founder
First of all its interesting to note that the first company in the U.S. to use machinery to shave Wicker strands off raw Rattan Cane was the AMERICAN RATTAN COMPANY operating in Fitchburg, MA.. This is important to note in the production of American made Rattan furniture.
Wicker and Rattan furniture as a commercial industry was created in America and not in Asia as many assume. The American production of wicker furniture began in the 1840's. This occured after the Chinese opened a number of treaty ports to foreign trade. Clipper ships would leave China bound for America with a variety of goods. Raw cane rattan was used as dunnage to secure the cargo and prevent shifting. This raw cane would then be discarded and left at the docks on America's east coast. One day in 1844, a 33-year-old grocer by the name of Cyrus Wakefield, collected an armful of the discarded rattan that had been abandoned at Constitution Wharf in Boston. Wakefield took notice on how flexible the cane was and an idea struck him. Could the cane be wrapped to produce furniture? Wakefield was not a furniture maker by trade but he still bent the rattan to produce a chair. He saw the infinitie potential of the material and quit his grocer job to pursue the rattan and cane idea full time..
It wasnt long when Wakefield realized he couldn't pursue a legitimate Rattan furniture manufacturing company using slow manual stripping processes. He needed a machine-based production capability. In the 1850's the AMERICAN RATTAN COMPANY of Fitchburg, Massachusetts was the only company using machinery to split raw rattan into wicker. Wakefield was familiar with the American Rattan Company because they were one of his customers for the raw Cane Rattan poles he was importing. He followed American Rattan Company's example in setting up a manufacturing operation on Canal Street with the same type of machinery.
To start his business Wakefield traded the raw rattan to basket makers and furniture manufacturers. The manufacturers used just the outer cane to weave chair seats and backs. In 1855, Wakefield and his wife left Boston and moved to South Reading, Massachusetts. There he established the Wakefield Rattan Company. He continued to sell the imported rattan throughout the United States and he continued to experiment with wicker furniture. Bending oak or hickory into flowing shapes, the frames were filled with ornate rattan patterns and wrapped with split cane.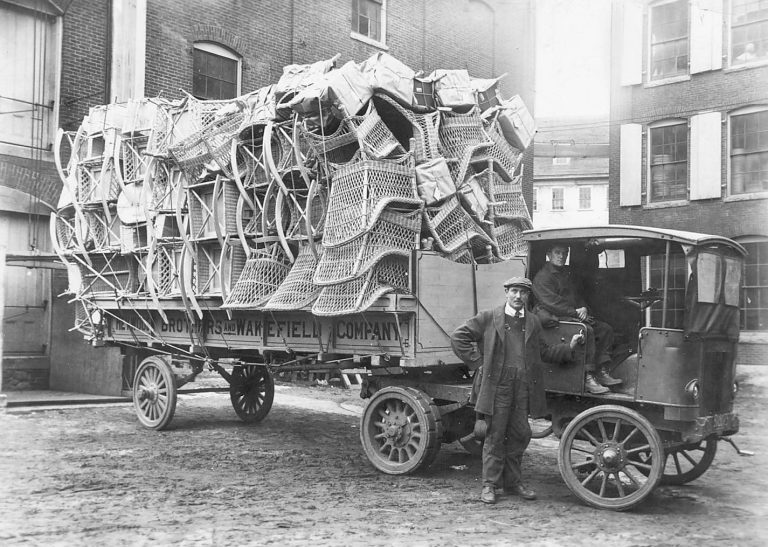 Wakefield realized the reed or inner pith of the whole rattan plant had tremendous flexibility, enabling him to create ornate, Victorian designs. Throughout the 1860's the Wakefield Rattan Company cornered the market on the wicker furniture industry. From 1865-1880, the majority of wicker furniture was made for indoor use, although it was becoming fashionable as garden and porch furniture. A businessman and investor, Wakefield's generosity also matched his success. He would donate both the money and the land for construction of the South Reading town hall and in 1868, the citizens of South Reading voted to rename their town Wakefield in his honor.
Wakefield Rattan Company had fierce competition from another furniture maker, Heywood Brothers Company of Gardner, Massachusetts. Their rivalry from the 1870's through the late 1890's would mark the period known as The Golden Age of Wicker, as both furniture designers created increasingly exotic and elaborate wicker pieces. Their originality and craftsmanship were unparalleled.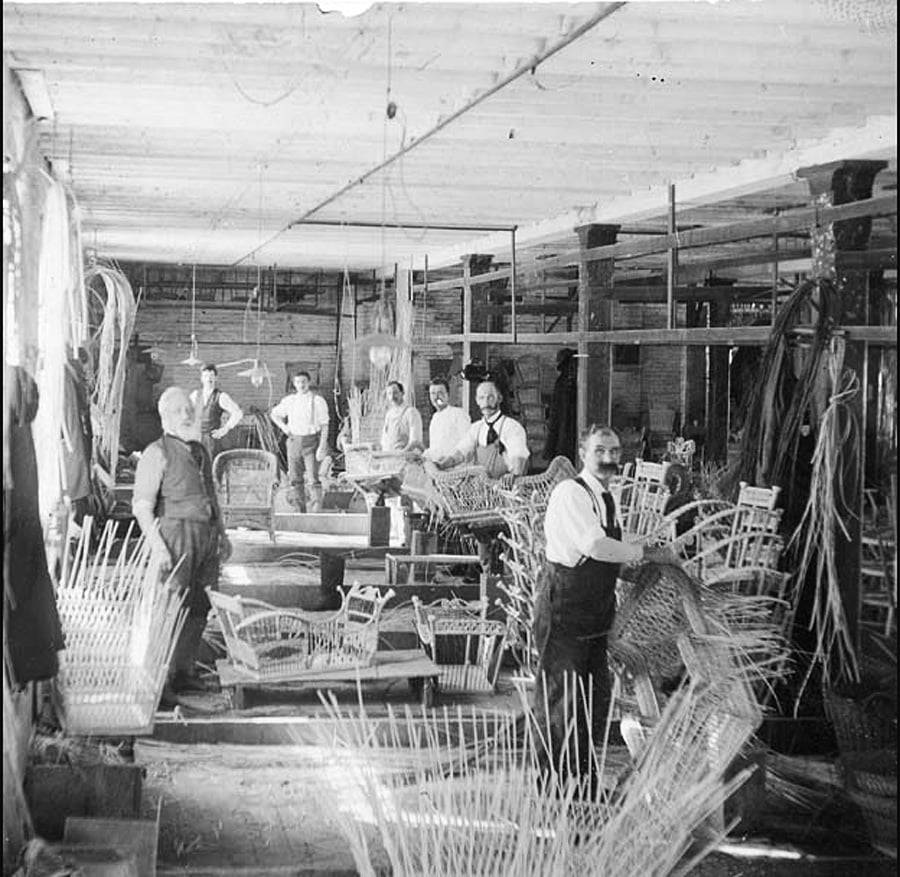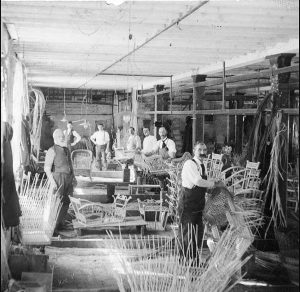 In 1897 the Wakefield Rattan Co. merged with the firm of Heywood Bros. and for the next two decades this newly formed company all but monopolized sales of quality wicker furniture. As the 1900's progressed, Victorian and Art-Nouveau designs were considered increasingly gauche. Angular European designs began to curry favor and the Arts and Crafts movement took hold. The Gustav Stickley Company of Eastwood, New York began creating no-nonsense Mission-style furniture in oak and willow.
In response to this new trend, the Heywood Brothers and Wakefield Company began to produce similar designs in 1905, but with added features such as built-in footrests and magazine holders. By the 1920's there was a marked increase in the number of wicker items available. Besides settees, rockers, dining sets and occasional tables, items included phonograph stands, tea carts, smoking stands, floor and table lamps, planters, blanket chests, china cabinets, baby buggies, desks and sewing cabinets.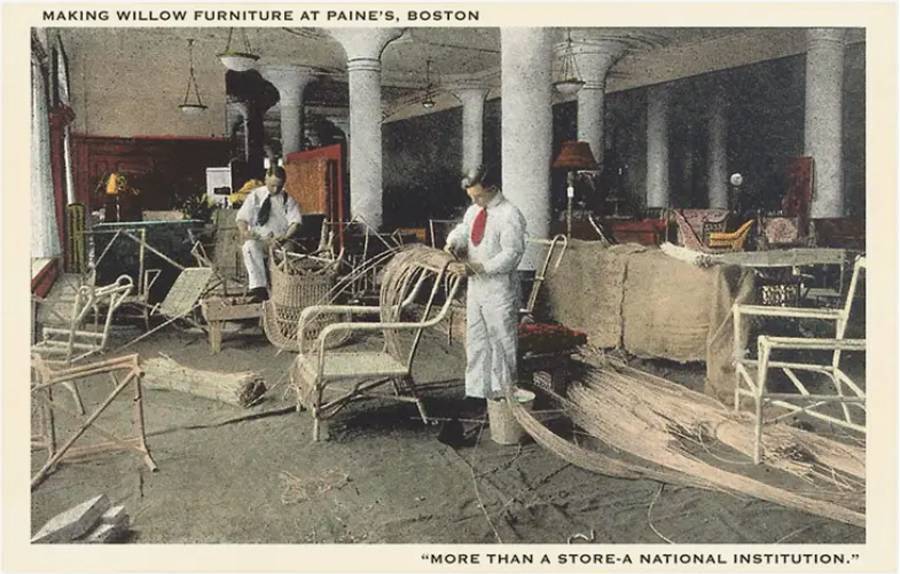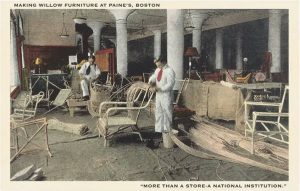 You would be surprised to know that there are still manufacturers here in the U.S.A that build wicker and rattan furniture. There are only a few but its nice to know we have kept that expertise here in America and of course keep those jobs here as well. You will note the American made items on our site with the MADE IN USA label. And as you might expect a lot of the manufacturing is also done in the Philippines, Indonesia, and China.Wakefield's early designs still form the basic framework of ideas used in today's Rattan and Wicker furniture.
Home of American Rattan and Wicker
Did you know?
* Conversation chairs (an S-shaped wicker sofa) allowed 19th century courting couples to sit face-to-face without touching.
* The airier look of wicker at the turn of the 20th century was largely due to rising costs in labor and increases in tariffs on imported rattan. This economical style of open weaving is most often found on chaise lounges and armchairs, designed for use by hotels. Manufacturers named these products after well-known resort areas, including Bar Harbor, Southampton and Newport. Today, open weave wicker of this period is usually referred to as Bar Harbor.
Rattan and Wicker furniture is an original American craftsman tradition dating from early in the 19th century. In the 1840's Cyrus Wakefield started the first Rattan furniture company in South Reading, Massachusetts. Watch American craftsmen build Classic Rattan furniture right here in the U.S.A factory!
Recent History of Rattan and Wicker Furniture in America
By: Mark A. Mosher, Founder
By now you know the older history of Rattan and Wicker furniture in the United States. Now lets discuss more recent history since I went into the business in 2002. Have you noticed the many websites now advertising wicker furniture for your outdoor patio? When I first went into the furniture business in 2002 there was one category that "Wicker furniture" belonged to. It was in the all-natural category of furniture being hand-woven from the strips of natural Rattan or Cane. This all-natural Wicker furniture was built and intended to be used inside the home. This is because all natural Rattan furniture will tend to develop mold in very humid outdoor climates or lose its finish when exposed to rain and snow. Wicker remained an indoor natural product until around 2005 timeframe when it was re-branded as outdoor patio furniture. Manufacturers and retailers are now marketing Wicker as an all-weather product woven from man-made synthetic resin fibers. There are two very important factors that caused this re-branding and change of category for Wicker furniture. First, there is a supply issue with naturally growing Rattan in southeast Asia. The only country with sustainable large commercial tracts of Rattan is Indonesia. That means that manufacturers in countries like China must import the natural product before they can manufacture it into furniture. This lack of availability greatly limits how much manufacturing can be achieved or sustained because of factors including trade restrictions and price controls. Another reason this re-branding occurred is that manufacturers (especially in China) have access to a never ending supply of man-made synthetics. But they had a marketing problem. Most people (including myself) do not imagine synthetic man-made resin as a very desirable furniture. On the other hand Wicker furniture is an American tradition and is always thought of as unique and beautiful. So, what these manufacturers and industry leaders here did was re-brand outdoor synthetically woven furniture as "Wicker furniture". And like it or not it has been an unbelievable success with thousands of companies now advertising Wicker furniture for your patio or garden. Whether you like the traditional indoor wicker like I do or prefer the man-made synthetic wicker you can find any of this wonderful furniture at American Rattan & Wickers online website at: https://americanrattan.com
We have been in the tropical furniture industry since 1999. Our company mission has always been to provide the highest quality furniture at the lowest prices, with excellent, customer service. We have proven we accomplish this goal with our A+ Better Business Bureau rating. Visit our website or give us a call at 1-888-265-4695 and discuss all of the stains, fabrics, and designs available with our experts who truly know their product.
The Bar Harbor Rocker shown here is a great example of traditional American Rattan furniture