ORDER PROCESSING AND SHIPPING PROCEDURES GUIDELINES
SHIPPING BEDROOM FURNITURE AND CASE GOODS

Bedroom furniture and other case goods will ship within a few days of ordering either online or by phone.
SHIPPING FURNITURE THAT REQUIRES CUSHIONS AND UPHOLSTERY
For upholstered furniture that need cushions such as sofas, lounge chairs, and dining sets the timeframe for the upholstery process and shipping is typically 2 to 4 weeks. When placing your order you can also request fabric swatches be sent to you by mail for your review. Some manufacturers can also send stain samples.
All customers who place an order receive an invoice via email that provides specific details about your product/s, shipping, and receiving the order.
1. SHIPPING COSTS – 48 CONUS STATES
FREE SHIPPING on many items when listed with Free Shipping. All orders of $1400.00 and more also ship free.
Shipping is $235.00 on orders of less than $1400.00 (when free shipping not offered) except for the western zone states.
Western States Zone shipping is $285.00 on orders of less than $1400.00 (when free shipping not offered) and includes these states:
(CA, CO, AZ, NM, WA, OR, ID, UT, ND, WY, NV, MT, SD, IA, NE, WI, MI, KS, MO, and MN)1B. SHIPPING COSTS – 48 CONUS STATES

There may be remote and western locations where shipping costs are much higher than normal and we need to charge the 1 item
shipping cost to these states even when the order is over $1400.00. We'll advise you in those cases and you can decide at that time
if you want to proceed with the order.
Another special case would including placing an order that includes shipping multiple items from multiple manufacturers in different locations. In some of these cases we may not be able to honor free shipping because we can't cover the shipping costs on single items from multiple manufacturers. Again, if this occurs we will advise you of additional ship costs and you will be able to decide at that time if you want to proceed with your order.

DELIVERY SCHEDULES: Please noter that we have no control of manufacturers or shippers and their schedules. We gladly assist customers who need a certain timeframe of delivery. We can't make guarantees or take responsibility in any way if the delivery isnt made in a specific window of time.
1.B. STATE SALES TAX – We pay your sales tax.
1.C. WHITE GLOVE IN-HOME DELIVERY
This superior and highly recommended delivery service requires the delivery company to unwrap and carry the furniture into your home where you can inspect it prior to signing the bill of lading. The cost to add an In-Home delivery service is $285.00 and its a selectable option on each product. When compared to a standard delivery where the furniture is left wrapped in your driveway, the WHITE GLOVE delivery is where your furniture is unwrapped, inspected, and placed inside your home.

2. CUSTOMER SUPPORT
We handle customer service problems promptly and professionally and we'll work diligently to exhaust all efforts in finding a solution to your issue. We appreciate your calm manner toward a problem, and thank you for a detailed account of any issue. Photos are highly appreciated for any furniture issue. For all status and support issues we ask that you use our support request form: https://americanrattan.com/contact-us/
IMPORTANT NOTE ABOUT HAND-MADE RATTAN FURNITURE
Rattan is a vine that grows in nature. Flaws in the grain of the Rattan poles or other slight imperfections are to be expected and even adds to its rustic characteristics and natural beauty. Most Rattan furniture is made in the Philippines and Indonesia by crafts people who do alot of the work by hand. None of our indoor Rattan furniture is made in China.
3. MANUFACTURER WARRANTY
American Rattan guarantees a damage free delivery. Beyond that, the manufacturers offer a minimum warranty of at least 1 year that covers issues such as breakage or cracking of the furniture wood or Rattan frames. Please email your rep or visit our support page if you want to file a warranty claim. We will provide you the manufacturers specific warranty information and work diligently on your behalf to address warranty issues between you and the manufacturers.
4. SHIPPING OVERSEAS (Caribbean, Puerto Rico, Hawaii, Canada, and other Countries)
We use multiple freight forwarders in Miami and ship many furniture orders offshore to Island countries in the Carribean, and Puerto Rico. We can also ship to Hawaii, and other countries when the customer has secured their own freight forwarder for the shipment. Our terms on this page apply to all furniture shipped to the freight forwarder office in the 48 Continental United States CONUS. Once the freight forwarder accepts the furniture and delivers furniture to the customer at distant shores all of our responsibility ends for any and all issues and the "sale is final at this point". The reasons for this are obvious: we have no way to pick furniture up and replace it. We have no way to repair damaged furniture, and we have no method to correct any manufacturer issue. All duties, import taxes, at distant ports are also the customers sole responsibility. IMPORTANT: All cases of damages are handled via insurance claims between the customer and the freight forwarder or the customs broker directly. We assist the parties as we can but all of our responsibility ends when the freight forwarder accepts the furniture at their U.S. office. Note that we have no method or ability to swap out furniture that has left the 48 Continental United States and there is no way to refund or cancel an order once it has been delivered to the freight forwarder and shipped via container. In the case of shipping into Canada we can get quotes for trucking but we have no responsibilty for Canada taxes or duties. For a detailed quote from our freight forwarders offshore shippers please send an email with the items you want to purchase and your complete address to: sales@americanrattan.com
NOTE: If you secure your own freight forwarder to use for your shipment these terms as written will still apply.
5. TERMS AS THEY APPLY TO RETURNED OR REFUSED FURNITURE
a. Return Material Authorization (RMA). All returns for any reason will need to be approved beforehand with an RMA and completed within 10 days after receiving the furniture. If a manufacturer denies approval of a return for any reason including returns expiration, prior useage, or any other reason, an RMA cannot be issued.
b. If a return is required because we shipped the wrong item/s then we'll coordinate swapping out the furniture and pay all associated costs. During the process we appreciate your patience and refunds/cancellations aren't authorized during the process.
c. For returns due to a change of mind, reasons of comfort, nature made wood imperfections, actual stain/fabric not matching your monitor, or similar reason there is a 25% re-stock fee applied and customer pays all shipping costs. Furniture that has been in the possession of the customer for over 30 days can't be returned for refund or exchange for any reason.
d. In all cases regarding a return for a refund we only provide the refund when the furniture is physically unloaded into our North Carolina showroom.
e. Showroom Orders – Furniture purchased from our showroom are final with no refunds or returns allowed.
6. TERMS AS THEY APPLY TO CANCELLATIONS, CUSTOM ORDERS, AND ASSOCIATED REFUNDS
a. Swatch Charges – For orders where we paid for swatches and or stain boards to be mailed to the customer for review, we charge a $50 shipping/handling fee and apply it to the refund.
b. CANCELLING CUSTOM ORDERS – When an order is cancelled that requires fabric or stain chosen by a customer, and the manufacturer has already begun production and/or cut the fabric for the order, then a 25% re-stocking fee is applied to the entire order amount and subtracted from your refund. The manufacturers charge American Rattan 25% re-stocking fees in these scenerios as well. EXAMPLE: a $2000 SOFA order would incur a (25%) or $500 re-stocking fee if cancelled and the fabric has been cut.
c. In general, orders that have shipped can't be cancelled. If the buyer insists to cancel, then we apply the refund minus both shipping costs, and the 25% re-stock fee if applicable and the swatch handling fee if applicable.
d. If furniture is refused at time of delivery due to any reason/s other than damages, then a refund will be given when we receive the furniture back from the shipper. Both shipping costs, 25% re-stock fee, and the swatch charges (if applicable) will also be applied.
7. PROCEDURES FOR DAMAGE RESOLUTION
If you receive your furniture with damage or some other problem we will work hard to resolve the issue. Please always annotate damages at time of the delivery on the bill of lading (B/L). If the damage is severe be sure to annotate on the B/L and refuse it. We do ask for your patience while we work to correct an issue and refunds and chargebacks are unnecessary and therefore not allowed.
a. Minor damages like a scratch, chip, or dent: Many times the delivery driver will be able to touch it up. If not, we will schedule furniture medic at www.furnituremedic.com or other repair company to repair it. We will work with you on these small things for up to 7 days after you receive the furniture. Since we can't verify useage or abuse of the furniture we can't provide service longer than that. Showroom items are sold "as is" in all cases.
b. Major Damage or Concealed Damages: Although rare, if an item is damaged more severly, or is the wrong item, try to take a digital photo of the furniture. Annotate in detail on the Bill of Lading what the problems are. Return the item/s with the driver for replacement or possible repair.
IMPORTANT NOTE: When the procedures here in 8B. are followed we will either replace or repair your damaged item/s at no cost to you. Cancellations or refunds are not authorized in all damage cases as we need time to correct the situation. Please note that in a "concealed damage" situation where the customer signs the bill of lading with no annotations of damage, keeps the furniture, but tries to report shipping damages later, the shipper will no longer be liable, and will not be able to pickup, repair, or replace the furniture at no cost to you.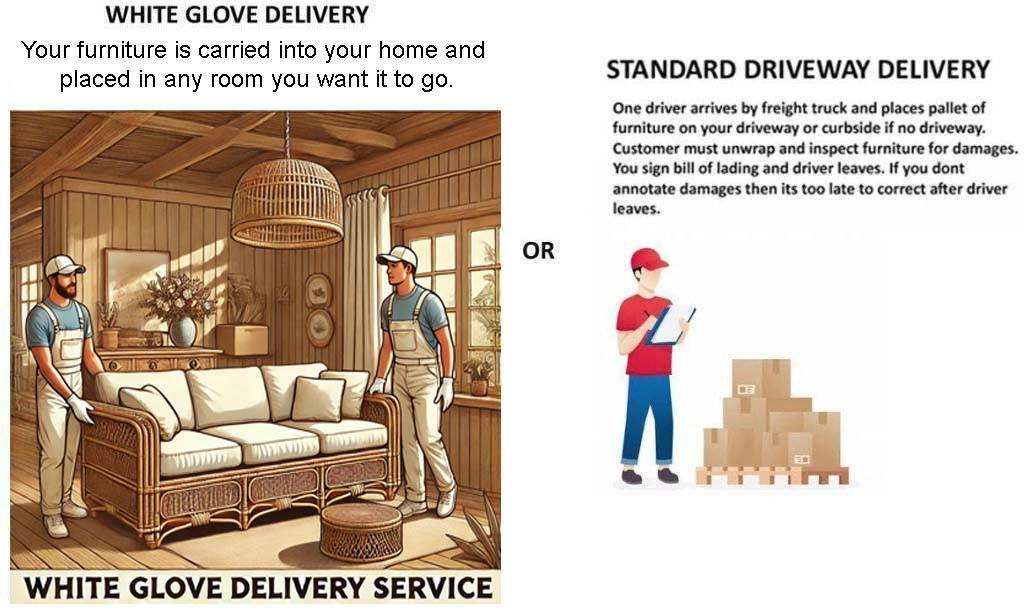 8. CANCELLATION OF ORDER BY AMERICAN RATTAN
As owners of this website we reserve all rights to cancel any order for any reason. If for example, you order a product and feel the description was wrong we will issue a refund and cancel your order.
9. DISCLAIMER AND TERMS OF USE AGREEMENT – PRIVACY POLICY
A. ACCEPTANCE OF TERMS – As a user and/or customer of this website you are aware that American Rattan publishes all information on this website in good faith and for general information purposes only. Except for the very few items shipped from our showroom we ship all of our new furniture products directly from the suppliers/manufacturers warehouses and therefore do not make any warranties about the completeness, reliability, and accuracy of any information including product safety information on this website. If you would like to verify the accuracy of any specific product description and information please send us an email to: sales@americanrattan.com We will in turn verify the product information request with the manufacturer and after they provide the information to us we will in turn provide the same information to you.
B. INTELLECTUAL PROPERTY RIGHTS – American Rattan as owner of the website owns the compilation of content that is shown on the website. This does not mean American Rattan owns each component of the compilation. The content on the site may be owned by American Rattan, owned by others and used with their permission (such as manufacturer product photos), or some will exist in the public domain. If you have a question/s pertaining to the legitimate use of any content shown on our website, or before using any content found on our website request permission by sending an email to: content@americanrattan.com
C. DISPUTE RESOLUTION – You should know that American Rattan is dedicated to handling customer issues and disputes quickly, fairly, and professionally. Please start the process by emailing details of your issue through our support page located here: https://americanrattan.com/contact-us/. We will provide you a written response within 48 hours but if for some reason we don't then its possible we didn't see or receive your email. In that case please re-send the email and also follow up with a phone call so we can know to look for your issue. If for some highly unlikely reason you and American Rattan & Wicker can't find a satisfactory resolution to an issue, the next step will be arbitration process through the Citizens Dispute Settlement Program (CDS), 20th Judicial Court, Lee County, in Ft. Myers, Florida. The Citizen Dispute Settlement Program is a FREE court alternative program under the direction of the Court Administrator's Office. Its purpose is to help disputing parties negotiate mutually beneficial solutions to their problems with the aid of a mediator. Problems addressed in this program include consumer/business problems.
D. PRIVACY POLICY
We value you as a customer, and we know you're concerned about protecting your privacy online. Our mission is to inform you of our policies for collecting, sharing, disseminating and securing customer information online. Our policy is quite simple: we do not share any customer information – period.
If you sign up with our Wicker Club we may ocassionally email you an in-house newsletter that prominently displays a link you can use to unsubscribe at any time. We also include the e-mail address you used when you signed up for the newsletter, so you know which address to enter when you unsubscribe.
Contacting American Rattan and Wicker Customer Service: If you contact our customer service, we will use your name, e-mail address, phone number and order history to answer your question as quickly as possible. On occasion, we may contact you later to verify information or to check on the quality of your Customer Service experience.
How Secure is My Information?
Protecting your personal information: We use Secure Sockets Layer (SSL 128-bit) encryption to scramble your personal and credit card information as it travels over the Internet during the checkout process on American Rattan and Wicker. In addition, we encrypt every credit card number and that information is not stored so no one will ever see or know your card information. We also don't require our customers to create an account and keep their personal information on file with us.shop