GREAT SELECTION OF FABRICS TO CHOOSE FROM
As you browser our outdoor patio and indoor living room Wicker furniture you will notice we offer a great selection of fabrics for the cushions. The fabrics available for the outdoor furniture are weather proof and made of nylon, polyesters, and acrylics. Fabrics for indoor furniture can include any of the outdoor fabrics plus other materials such as cotton. This is very good information to keep in mind especially if a manufacturer offers both indoor and outdoor lines. Remember that indoor furniture can use both any of the outdoor fabrics a manufacturer offers as well as the indoor fabrics.
SAVE MONEY AND ORDER CUSTOM CUSHIONS FOR YOUR CURRENT FURNITURE
If you want to save big money and avoid buying new furniture just buy new cushions instead. And American Rattan is here with the solution! VISIT fabric and cushion options from different manufacturers and get your cushion order in to us. GET YOUR CUSTOM CUSHIONS MADE NOW
SUNBRELLA FABRICS
Sunbrella fabrics are manufactured here in the U.S. and are the most popular for outdoor wicker furniture. They can also be used for any of our indoor wicker furniture. If you would like to make sure you purchase your furniture with a Sunbrella fabric you can speak to one of our experts. Call us at -888-265-4695 or email sales@americanrattan.com and one of our reps will be able to assist you.
Our CLASSIC RATTAN collections off many fabric options. The OCEAN BREEZE patio Wicker Furniture below is a great example.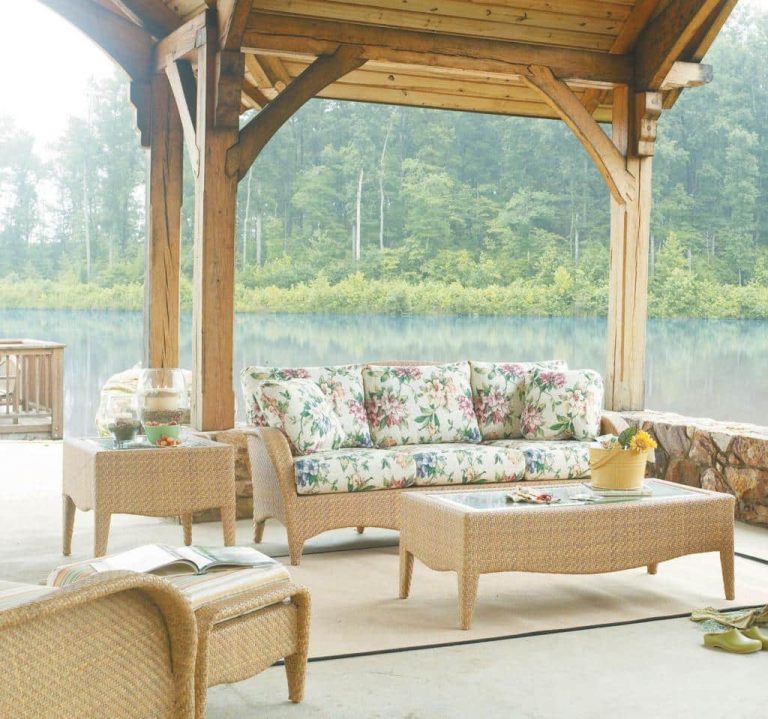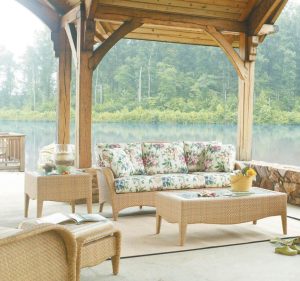 ORDERING SWATCHES FOR REVIEW
If you're not comfortable selecting a fabric without personally feeling the texture we can send you fabric swatches. When you place your you can list any swatches you would like to see in person. When we receive your order we will have those mailed for you. Another way to order swatches is to phone in an order to us at 1-888-265-4695. We accept a 1/3 deposit for an order and then send you swatches of your choice. If you decide to cancel the order prior to selecting a fabric we will issue a refund and cancel your order.